Careers
Careers Leader: Mrs Anna Hall anna.hall@jhanson.hants.sch.uk
Careers advisor: Mrs Michelle Seaman michelle.seaman@jhanson.hants.sch.uk
(usual working days are Tuesday and Wednesday)
Careers education at John Hanson is truly aspirational, using the Gatsby Benchmarks to constantly develop and improve career provision and is recognised both locally and nationally as 'outstanding'. Students across all five-year groups are provided with a rich experience of un-biased, high quality information and opportunities to encounter the world of work. The aim is to ensure that all students have higher aspirations than when they joined the school, by offering them opportunities to learn about post-16/18 providers, including the Russell Group universities, greater understanding of apprenticeships at all levels, and of a variety of career sectors.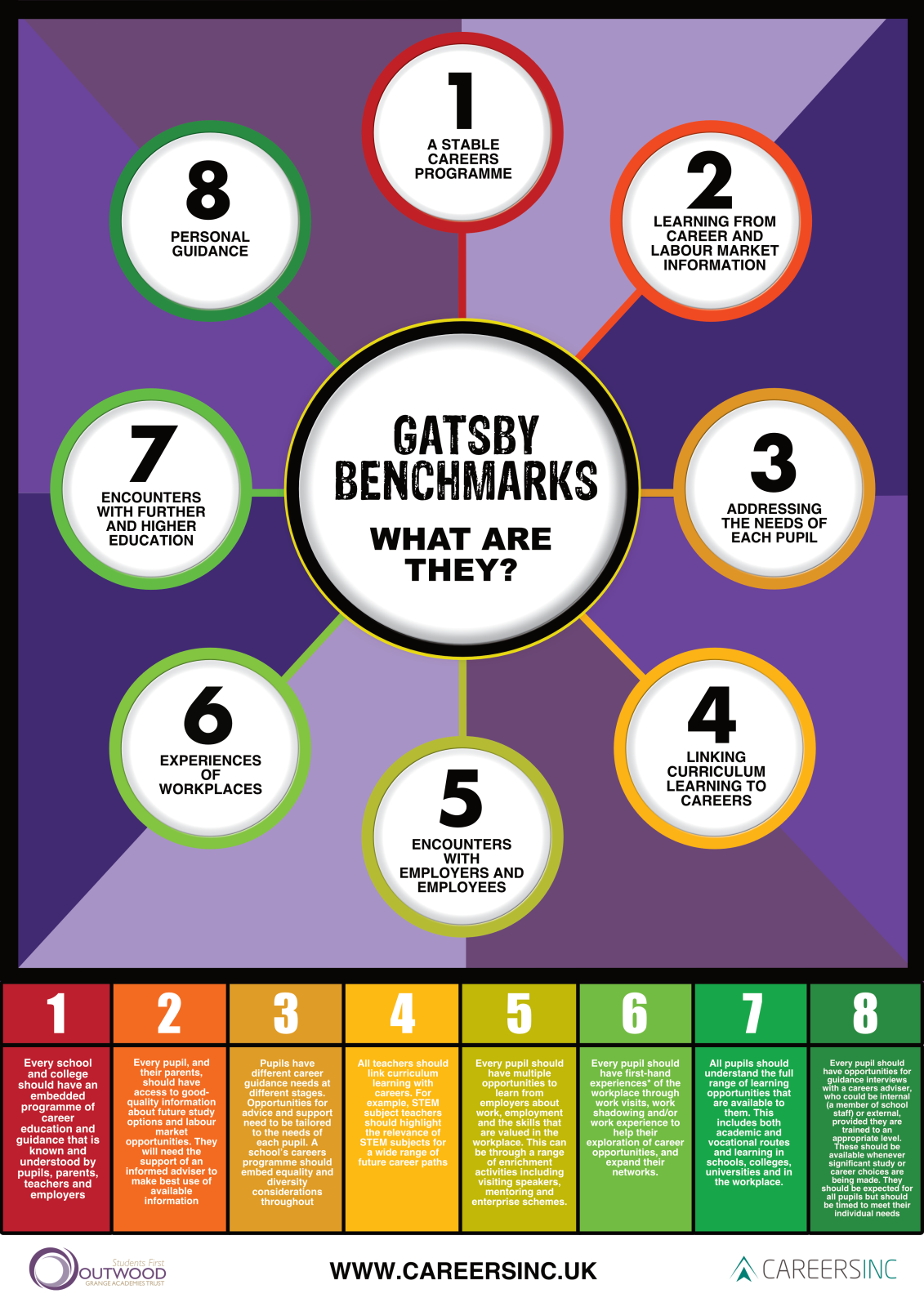 Quality in Careers Standard: The school was the first in the Test Valley area to hold the Quality in Careers Standard, highlighting the exemplary quality of careers guidance on offer to students and the significance of focus the school places on preparing students for the next stage of their learning.
For an overview of everything careers based, please see our termly newsletters here.
Newsletter Latest
Careers Advice: Every Year 10 and 11 student has an individual 1:1 Careers Interview with Michelle Seaman, our Independent Professional Careers Advisor. Each student will receive a Careers Action Plan following a full hour of Michelle's undivided time in which she explores each individual to see what makes them tick, to help them become more self-aware and consider what they want from their future career and how they want to live their life. The Careers Action Plan is discussed and agreed in the meeting. Michelle also supports many students in the application process and can support students and their parents, in completing application forms, writing CVs and completing personal statements. Please contact her directly if you have any questions about post 16 options on michelle.seaman@jhanson.hants.sch.uk.
Careers education: The majority of our Career education is delivered through our off timetable PSHE days. Over 5 years with us, students will have taken part in volunteering opportunities, work experience and met representatives from all of our local colleges, universities and training providers, as well as engaged with various employers. We offer open access to students in all year groups, for all post – 16 providers, to ensure students understand A-levels, university courses, apprenticeships and alternative routes too.
This is a constantly evolving plan as we add more opportunities for our students on a termly basis. We aim to deliver for each year group, a programme similar to the careers-based activities listed below:
Year group:

Activities:

Benchmarks:

7

Winchester university: Successful starts

Debating skills

Volunteering day

5 / 6

8

Being an entrepreneur

Your future game

5

6 / 7

9

SUN Career Pilot

SUN Discover your options

Gender equality

Employability skills

BCOT

The Options Process

Life after JH

Winchester university: Choices

The Buzz Test

Employment

Life Skills

Andover and Sparsholt College

STEM ambassadors

Group options meetings with Careers advisor

2 / 7

7

7

7

7

5 / 6

7

2 / 5

2 / 3 / 8

10

SUN Career pilot

Discrimination in the workplace

Post-16 options

QMC – how to apply

Work experience launch

1-2-1 Careers meetings

Young Enterprise day

2 / 7

7

7

6

2 / 3 / 8

6

11

1-2-1 Careers meetings

Work experience

Careers fair

Student finance

Entrepreneurial talk

Apprenticeships and traineeships

CV writing

LinkedIn profile writing

Employment contracts

Revision techniques

Post-18 options

2 / 3 / 8

6

5

7

5 / 7

5 / 7

5

5

2

7

Assemblies/tutor time

LMI and future careers

Subject specific careers

National Apprenticeship week

National Careers week

Local post-16 college and sixth form

Year 9 Options fair with prefects

2 / 6

2 / 4 / 7

6 / 7

2 / 4 / 7

7

5

Trips/visits and extra- curricular

Aim higher Oxbridge visit

Winchester university campus visit

Andover and Peter Symonds taster days

Stannah apprentice event

7

7

7

5 / 7
All of our career's activities are evaluated by students completing a pre and post event evaluation form. This allows us to measure and track the impact our careers programme is having for our students and adjust it accordingly year on year. We also use Compass+ to fully track the careers education of every student over time, and will send this home at least once a year to make parents aware.

Our careers fair:
We hold our annual careers fair that for all of the secondary schools in our area. By hosting such a large event, we ensure each employer who attends meets over six hundred Year 11 students during the course of a day. Employers only give up one day of work rather than having to decline invitations to endless events at multiple schools. Since starting this six years ago, our event has gone from strength to strength. There are a wide variety of businesses that attend from a whole host of career sectors and the feedback from both students and employers is always positive.
If you are a training provider, local or national business and would like to attend our careers event in October 2022, please contact anna.hall@jhanson.hants.sch.uk
Our main feeder colleges are:
Planned college transition meetings are held in the spring/summer term, to support all students with SEND or who access our FLEX provision, to ensure a smooth and effective transition to post-16 education. The learning support team complete a variety of bespoke activities to foster independence and readiness for life after school.
Year 11 Work experience:
Year 11 students take part in a week-long Work Experience placement during the first week of the September term. We work with EBP SOUTH from the start of the process in the spring term of Year 10, right through to the autumn term when they attend.
Students have the option of finding an own placement or applying online. For an own placement form please click here: own placement form
It is important that they do not apply via both routes as a charge will be incurred. A charge will also be made if a student does not attend an agreed placement.
If you have any questions about Work Experience please contact either:
Mrs Jade Bailey: jade.bailey@jhanson.hants.sch.uk
Mrs Anna Hall: anna.hall@jhanson.hants.sch.uk
The EBP weblink can be found here:
Welcome - Basingstoke Consortium and EBP South Work Experience System - Providing schools with information about placement opportunities offered by employers taking part in the Work Experience Programme (work-experience.co.uk)
A 10 minute video on how to use the system can be found here:
VIDEO WEX Presentation 2021 - YouTube
To understand more about work experience please read these two documents:
work experience paths and student guidance
What you can do from home: have a look at some of the useful websites below.
General:
Post-16 options:
Universities:
Apprenticeships:
APPRENTICESHIPS - End Point Assessment explained - A useful 4 minute video that explains what an End Point Assessment is. Useful for students considering an apprenticeship.
End-point assessment methods explained - YouTube
Voluntary work:
Follow: My path on YouTube; it has some excellent videos including 'Job of the week'.
Know your strengths: take a look at this list and decide what your strengths are ready for post-16 interviews and applications. https://whatsyourstrength.co.uk/wp-content/uploads/2021/03/WYS_glossary_v11_download.pdf
Destination data:
We don't just forget about our students when they leave us. We are proud of our destination data and love to hear about all the successes our students go onto achieve.
If you are a past student and would like to be a part of our growing alumni please get in contact with us: anna.hall@jhanson.hants.sch.uk.
Every Year 11 student signs a data sharing agreement before they leave us, ensuring that the local colleges are able to share their data with us when they complete their courses. We work closely with the local authority too, to ensure we track the destinations of all of our students. This published data is always a couple of cohorts out of date, and at times the published data is not accurate. We are proud to be able to confidently update the local council every year on those students they think are missing in education (NEET), as students and their families allow us to keep in contact to remain updated. This year, all colleges have been contacted too for us to have a truer picture, that national and local government data doesn't give us, because we truly care what happens to our students.
You can see our draft destination data report here. If you need help understanding this, please contact us directly.